Why? Because of the latest news announced by Hotel Chatter in an article titled "Google Now Lets Us Virtually Stalk Hotels Without Ever Actually Visiting Them"
This is where you can now use the Google Street View technology to walk around inside hotels. That's right, view the receptionists, view the lobby, view the restaurant and see what nice plants they have on display.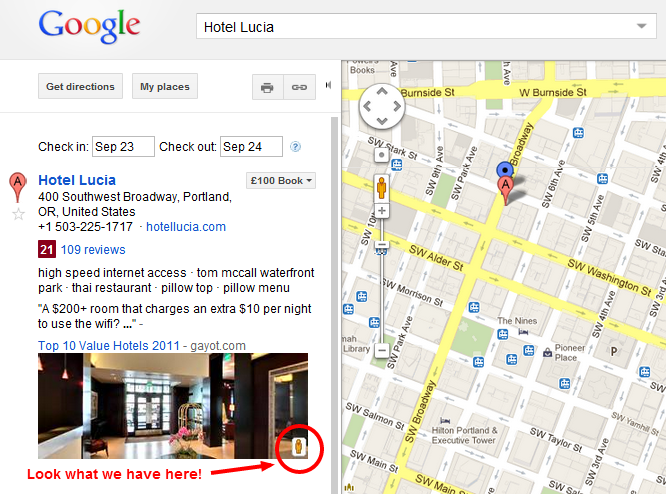 When you enter street view within the hotel listed then you can take a good look around. Take a look at their lovely reception they have at Hotel Lucia;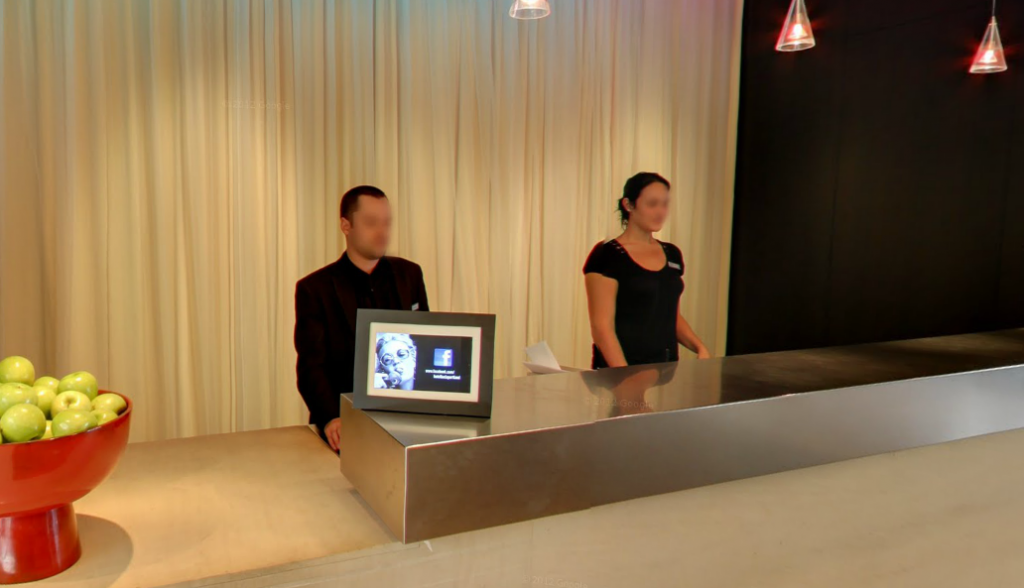 After having a short walk around the lobby and reception area (which appears to have been bombed with fresh apples – they must have got a discount on these before the photo shoot!!), I decided I want to take a look around the hotel a little more so I go in the lift to floor 5;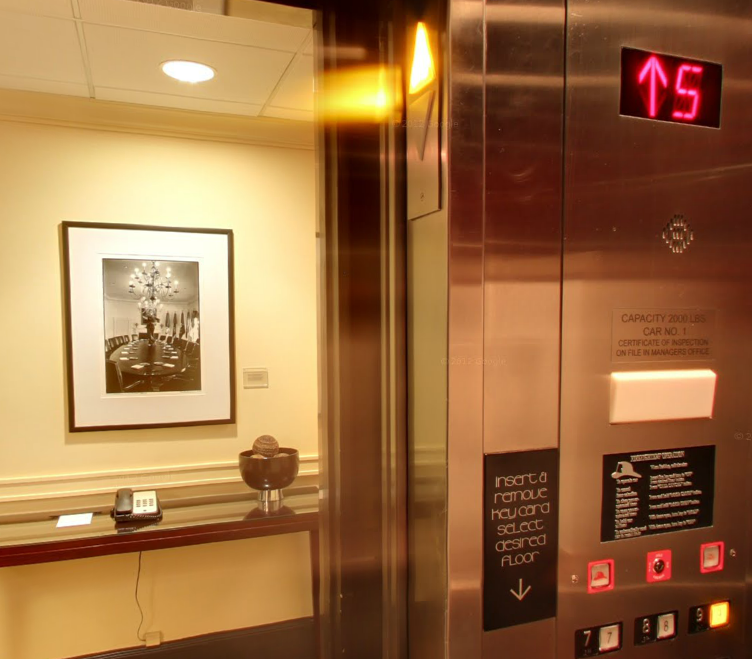 Now lets take a look at one of their bedrooms in great detail;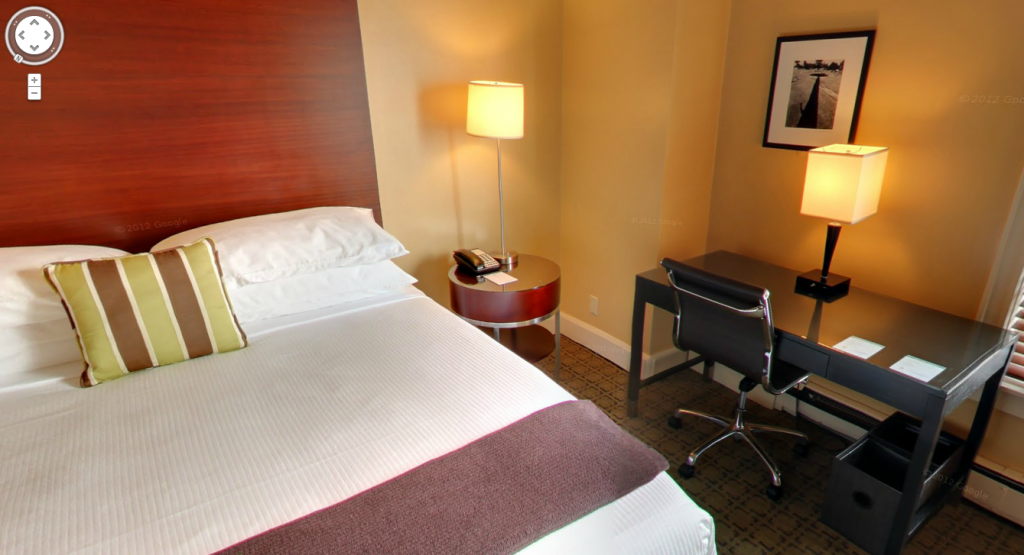 Wow! A full 360 degree view of the bedrooms. You can clearly see what facilities they have in the rooms at a quick glance. Just awesome. 
As you would expect with this kind of new technology, nothing here is quite perfect initially and here is a lovely view of the tripod which took the photos where the algorithm hasn't quite joined the pictures together in the most elegant way…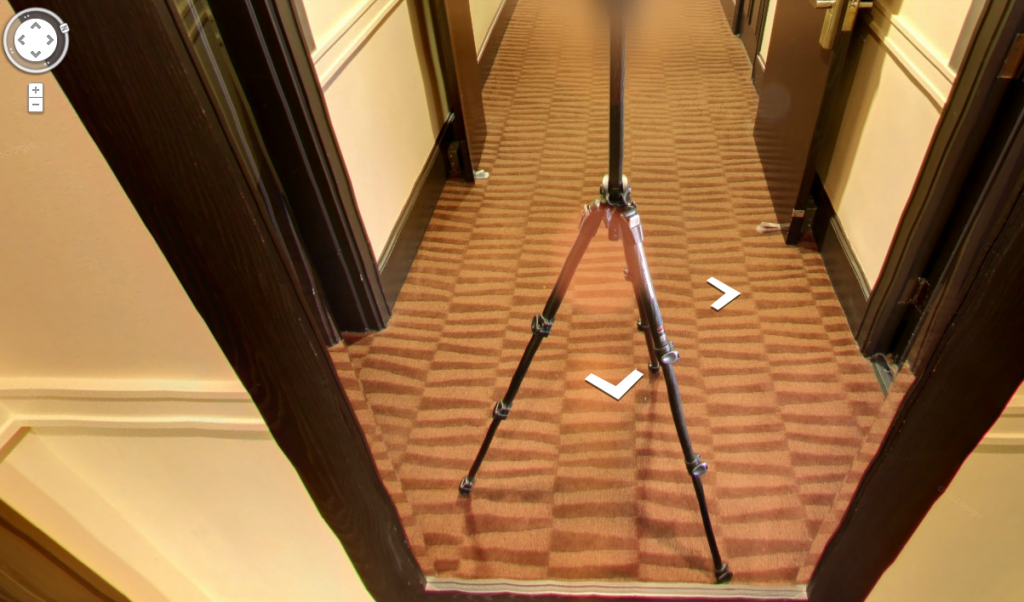 While this isn't perfect at the moment, it is still leaps and bounds ahead of anything else in the travel industry and will likely be the case for quite some time to come. 
One thing to note is that this is still in its early days and has only been done on a small scale – yet. It will happen in the near future though. 
Where has all this come from?
Well actually Google has been interested in this area for quite some time. It was as early as 2010 when Google announced that they would be taking pictures of small local businesses in 30 cities around the world which would initially be for "Right now we're focusing on businesses like restaurants, cafes, hotels, spas, salons, gyms, and retail stores"
Is this really a surprise that this has come about? I'm surprised it hasn't happened sooner as the writing has been on the cards for a number of years now. 
Why this would worry the travel industry
Well certainly this isn't much of a worry for the hotels involved in this scheme, it is great PR and brilliant for their guests. But this is extremely bad for the typical hotel aggregators that are around – and there are an awful lot of these around these days! This industry is full of aggregators and affiliates of affiliates of affiliates who ultimately sell all the same stock at the same prices and offer the same duplicated information about the hotels – where is the added value here? Martin MacDonald did a good post back in July about how affiliate marketing in travel shout be dead and how travel websites need to add real value to their real businesses. 
In reality, most travel aggregator websites simply don't offer any more value than the next one. There is all the talk about 'branding' within the industry, but a brand is more than a nice colour scheme, logo and brand values. Branding is about actually making the website better, actually making the business better, making it stand out from the crowd, doing something uniquely different….e.g. what Google have gone and done. 
With travel accounting for such a large percentage of Google's traffic / search queries then I am not surprised they are really pushing this area. The figure that springs to mind is that the travel industry accounts for around 10% of searches on Google – I can't remember (or find!) where I read that figure so don't quote that as gospel (hey, I may have made it up and convinced myself I read it somewhere! who knows). 
If you look at the recent work Google have done in the travel industry though;
Google Hotel finder launched
Google Flight Search launched 
Google bought Zaggat and integrated their reviews
Google bought Frommers and is working on integrating (no doubt!) this into their services
Google launches Street View for inside hotels
What is coming next? Well, if I were Google I would start to combine all of these wonderful products into one awesome 'holiday' tool which would allow me to easily pick & choose the right hotel based on  the great photos, user reviews and the interactive view of inside the hotel. This choice would be after I have chosen my perfect city to visit after reading the travel guide content provided from Frommers and then I would book a flight to the destination. – All at the click of a few buttons and under one large Google product. 
Then if I were Google, I would then put this awesome "Google Travel" tool at the top of the search results and begin to force it down peoples necks. And ultimately, this would be such as awesome tool that the other usual aggregators can't compete with this.
What happens after that? Well, users then get used to this nice usability and extra functionality and begin to question why they are using their previous aggregator websites (the ones with the nice branding logo) when everything can be simply done via Google, so the consumer behavior begins to shift and the intermediaries are left wondering how the rug could have been pulled from under them so quickly.
What can be done?
Step up! (no, not the dance film). Step up as a business owner. Google has made a lot of strategic acquisitions over the past few years and has integrated those acquired technologies into new products and services. The writing is on the wall, Google is clear about where they are heading (regardless of the BS they spout out in official PR).
It is time to become the dominant player in the industry instead of letting Google walk all over a whole industry and potentially wiping out an awful lot of businesses over the next few years. It is going to take a lot of effort, an awful lot of effort to do this – but if little is done in the industry then don't be surprised when Google finally screw everyone over.