Well, it was only a matter of time before this happened. Google have just started to test showing their Hotel Finder product at the very top of the search results, above the organic and above the paid listings – in the exact same way they do with the mortgage comparison tool. 

As you can see in the screenshot above, this is being tested on one of the top searched for phrases in the hotel booking industry which is never a good sign. Google has even included the options to filter by star rating of hotel. 
I spotted the above when searching for "London Hotels" on Google.com in Internet Explorer (I was testing something in it, honest, don't look down on me for using it! :-p ) and I was not signed in to my Google account. 
Below is the exact same thing that Google has done in the mortgage industry, so it is not like this hasn't been on the cards since they launched Hotel Finder back in late July.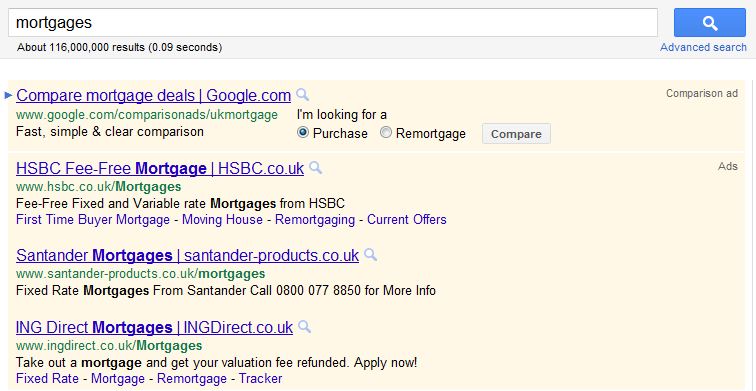 Fortunately, Google hasn't really fully tested the options yet as the 'book' button doesn't actually do anything. The button currently just takes you through to this page, although I imagine when this gets fully rolled out that the 'book' button will take users straight through to their Hotel Finder product. That said, the main link does take a user through to the Hotel Finder product already. 
I posted a while ago about whether Google is turning into a hotel aggregator and about travel dates becoming more prominent within the search results. But more important questions need to be asked about the Google monopoly and what can be done against it.   
Just a quick full screenshot of everything above the fold now for a 'London Hotels' search, which is 100% Google products / ads. Shocking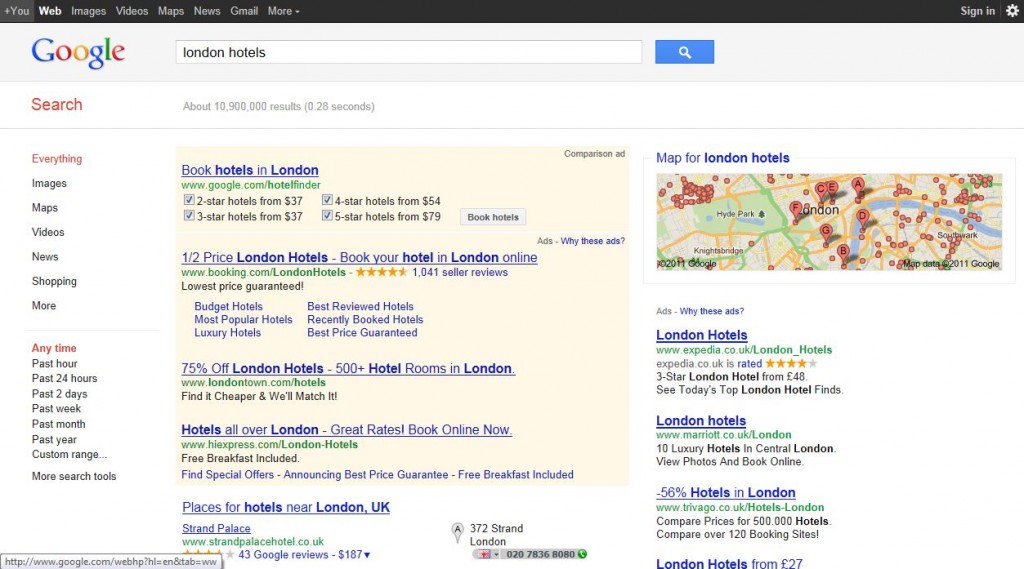 The tests run by Google are usually around 5% of the search queries, although I have no doubt that Google will be ramping this figure up extremely fast. It is certainly a nice Xmas present from Google for the travel industry! But it could be worse I guess, they could have unleashed a Panda update again.