Spotted a great advert for McCains Jacket Potatoes today. I love guerilla marketing like this, it makes companies stand out from the crowd and get people talking about them. 
The advert had a large jacked potato stuck to the inside of a bus shelter and the surrounding area actually smelt like jacket potatoes! There is no jacket potato stand close by either, it was coming from the item stuck on the bus shelter which must have been sprayed / soaked in some liquid which smells like jacket spuds.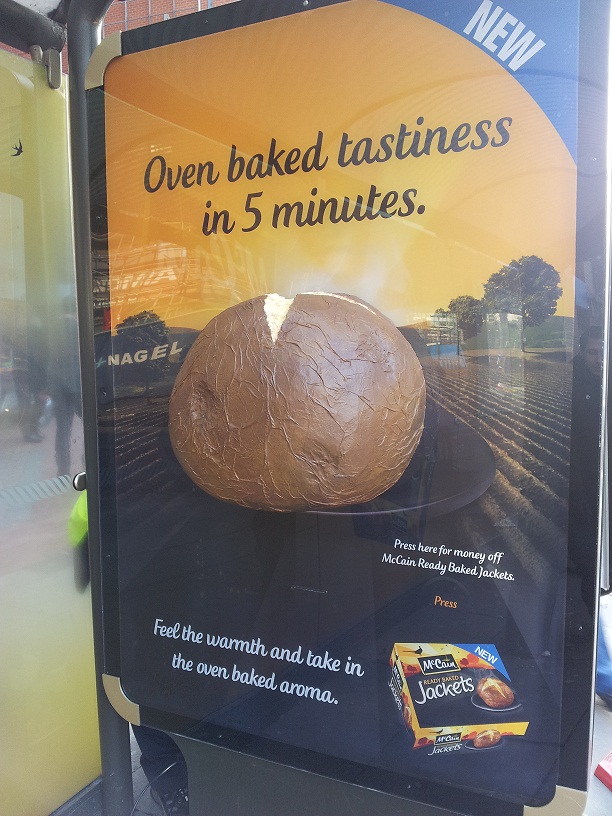 Great marketing idea. 
Update – Further information from the article Damien spotted;
"New technology will give bus users money-off vouchers and the smell of slow oven-baked potatoes with the push of a button.
The adverts are part of a campaign to launch the new frozen jacket potato product, the biggest launch by McCain Foods since McCain Oven Chips in 1979.
The bus shelter posters contain a hidden heating element which warms the 3D jacket potato picture and releases the scent when a button is pressed.
The company spent three months developing the aroma, in collaboration with a specialist scent laboratory, so that it accurately matched the scent of the product."